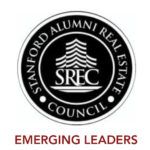 Stanford Alumni Real Estate Council (SREC)

Our SREC EL Members are the future.
Emerging leaders in the industry, they come together with their like-minded peers and fellow alums to accelerate their careers. They network, learn together, exchange ideas, and build year-round and lifetime connections.
Found in all aspects of real estate and the built environment, their ideas and actions are changing the industry.
Interested in becoming an SREC EL member? Inquire Here.
Preferred Name: Katherine

Last Name: Evers

Degree String (Type, Year): ('16, MBA '22)

Job Title: Senior Associate

Company Name: Tishman Speyer

Bio: After graduating from the Stanford Graduate School of Business last year (MBA '22), Katherine joined Tishman Speyer as a Senior Associate in their MBA Leadership Development Program. She is currently working on the Debt Capital Markets team based out of New York, where she is focused on the firm's debt financing activities for new acquisitions, development projects, and existing properties across the United States. Prior to business school, Katherine was a management consultant at Bain & Company for four years, focused in their Strategy and Private Equity groups. During her time at the GSB, she served as a Teaching Assistant to the Real Estate Investment course with Chris Mahowald and Doug Abbey, and also served as an Arbuckle Leadership Fellow. She holds her B.A. in Economics with a minor in Art History from Stanford University.