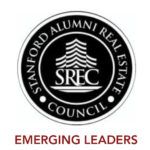 Stanford Alumni Real Estate Council (SREC)

Our SREC EL Members are the future.
Emerging leaders in the industry, they come together with their like-minded peers and fellow alums to accelerate their careers. They network, learn together, exchange ideas, and build year-round and lifetime connections.
Found in all aspects of real estate and the built environment, their ideas and actions are changing the industry.
Interested in becoming an SREC EL member? Inquire Here.
Preferred Name: Santiago

Last Name: Arrangoiz-Arriola

Degree String (Type, Year): (MS '17)

Job Title: Assistant Project Manager

Company Name: Sares Regis

Bio: Santiago is an assistant project manager at Sares Regis Group of Northern California's residential development arm. He is a former structural engineer and was involved in the design and construction of a wide variety of projects in the Bay Area prior to moving to development. His day-to-day responsibilities include design and construction management as well as lease-up and delivery strategy for large-scale multifamily developments in the South Bay. When not at work, Santiago enjoys climbing mountains and competing in road and track running races.