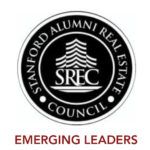 Stanford Alumni Real Estate Council (SREC)

Our SREC EL Members are the future.
Emerging leaders in the industry, they come together with their like-minded peers and fellow alums to accelerate their careers. They network, learn together, exchange ideas, and build year-round and lifetime connections.
Found in all aspects of real estate and the built environment, their ideas and actions are changing the industry.
Interested in becoming an SREC EL member? Inquire Here.
Preferred Name: Arnaud

Last Name: Dusser

Degree String (Type, Year): (MS '17)

Job Title: Director, Real Estate Development

Company Name: Hillspire, LLC

Bio: Arnaud Dusser is the Director of Real Estate Development at Hillspire, LLC, an integrated single family office serving all the activities of Eric and Wendy Schmidt. Arnaud joined Hillspire in 2017 and oversees all of the organization's residential and commercial development projects globally. Prior to this role, Arnaud worked in multi-family development in San Francisco (Build SF), modular affordable housing construction in Sweden (BoKlok, an IKEA/Skanska JV), and as a structural engineer on various projects located in Canada's high Arctic (SNC-Lavalin). Arnaud has a master's degree in civil and environmental engineering from Stanford University and a bachelor's degree in civil engineering from McGill University.