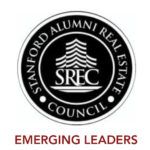 Stanford Alumni Real Estate Council (SREC)

Our SREC EL Members are the future.
Emerging leaders in the industry, they come together with their like-minded peers and fellow alums to accelerate their careers. They network, learn together, exchange ideas, and build year-round and lifetime connections.
Found in all aspects of real estate and the built environment, their ideas and actions are changing the industry.
Interested in becoming an SREC EL member? Inquire Here.
Preferred Name: David

Last Name: Brody

Degree String (Type, Year): ('11, MS '12)

Job Title: Associate

Company Name: BW Brody Affiliated Companies

Bio: David worked in the bay area in technology from 2012 to 2017. He has been in Los Angeles working in real estate since 2017. In SF, he worked in various technical roles from prototyping to implementation of both software and hardware. His time was spent at Numenta, an artificial intelligence company, and IDEO, a creative innovation agency. In Los Angeles he joined his family real estate company. They specialize in management and construction of commercial multi-family apartment complexes throughout the Los Angeles area. David continues to develop his real estate and technology passions as his career develops.