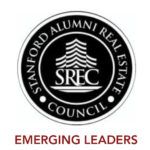 Stanford Alumni Real Estate Council (SREC)

Our SREC EL Members are the future.
Emerging leaders in the industry, they come together with their like-minded peers and fellow alums to accelerate their careers. They network, learn together, exchange ideas, and build year-round and lifetime connections.
Found in all aspects of real estate and the built environment, their ideas and actions are changing the industry.
Interested in becoming an SREC EL member? Inquire Here.
Preferred Name: Emily

Last Name: Chabrier

Degree String (Type, Year): ('11)

Job Title: Executive Vice President

Company Name: CBRE

Bio: Emily Jones is a Senior Vice President in CBRE's Midtown Manhattan office specializing in both landlord and tenant representation. Working tirelessly on behalf of a roster of noteworthy clients in New York City, she has been involved in more than three million square feet of transactions since joining the firm. In addition to advising prestigious corporate occupiers such as Bank of America, City National Bank, Misys, Dun & Bradstreet, and Oliver James Associates, Emily represents some of the city's most highly respected owners and landlords. Her agency work includes the leasing of Grand Central's newest office tower-One Vanderbilt Avenue for SL Green-and assignments for Paramount Group, Ivanhoe Cambridge, Callahan Capital and Tamares Real Estate. Most notably, Emily works on behalf of the Related Companies and Oxford Properties in the marketing and leasing of Hudson Yards, the game-changing complex on Manhattan's West Side that is considered one of the largest private real estate developments in U.S. hi