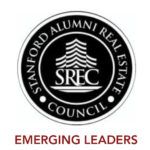 Stanford Alumni Real Estate Council (SREC)

Our SREC EL Members are the future.
Emerging leaders in the industry, they come together with their like-minded peers and fellow alums to accelerate their careers. They network, learn together, exchange ideas, and build year-round and lifetime connections.
Found in all aspects of real estate and the built environment, their ideas and actions are changing the industry.
Interested in becoming an SREC EL member? Inquire Here.
Preferred Name: Hilary

Last Name: Barte

Degree String (Type, Year): ('11)

Job Title: Managing Director

Company Name: JLL

Bio: Hilary is a Managing Director at JLL, a Fortune 200 real estate investment company. Hilary specializes in helping companies with their global real estate portfolios of owned and leased sites. Some of her clients include Pinterest, Alibaba, Take Two Interactive, Joby Aviation, Lyra Health as well as various venture-backed startups. Hilary graduated from Stanford University with a degree in International Relations. She was an 8-time All-American and two-time captain of the Stanford Women's Tennis team, where they won two NCAA Division I national championships.