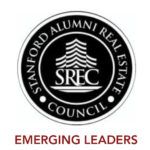 Stanford Alumni Real Estate Council (SREC)

Our SREC EL Members are the future.
Emerging leaders in the industry, they come together with their like-minded peers and fellow alums to accelerate their careers. They network, learn together, exchange ideas, and build year-round and lifetime connections.
Found in all aspects of real estate and the built environment, their ideas and actions are changing the industry.
Interested in becoming an SREC EL member? Inquire Here.
Preferred Name: Humberto

Last Name: Escapini

Degree String (Type, Year): (MS'19)

Job Title: Founder & Principal

Company Name: EKHO Capital

Bio: Humberto Escapini, Founder and Managing Principal of EKHO Capital, leads a real estate investment firm specializing in mid-market multifamily value-added opportunities in Western U.S. markets. EKHO Capital employs a deal-by-deal structure to cater to institutional investors, family offices, and high-net-worth individuals. Prior to founding EKHO Capital, Humberto served as Executive Director at JPMorgan's Global Investment Opportunities Group (GIO). In this role, he managed investments in public and private markets for individual and institutional clients, overseeing $3 billion in assets while holding multiple leadership positions. Humberto holds an M.S. from the Stanford Graduate School of Business and a B.S. from Boston College and currently lives with his wife and son in San Jose, CA.