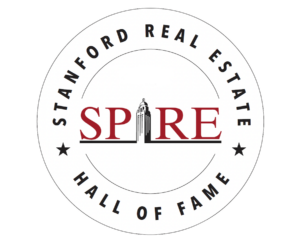 Stanford University sets a standard of excellence with an alumni network of leaders across industries and continents. In the broadly defined real estate industry, Stanford has always led, from its founding with Leland Stanford's land grant, to its alumni at the top of the industry, to its students – future innovators and changemakers.
Given this rich and ongoing history of excellence, SPIRE created the Stanford Real Estate Hall of Fame to honor Stanford alumni who are industry luminaries and pioneers – showcasing their contributions as a thank you and as an inspiration to industry leaders –
past, present and future.
Consistent, sustained positive impact on the real estate and/or built environment industries
Dedication to industry innovation
Industry icon and leader
Proven commitment to the education and development of the industry's next generation of leaders
Demonstrable contributions to Stanford University and its alumni and student communities
2023 Stanford Real Estate Hall of Fame
SPIRE is excited to honor Brad Geier ('79) and Ken Woolley (MBA '71, PhD '71) at the 2023 Stanford Real Estate Hall of Fame Banquet on Thursday, November 16 at the Sharon Heights Golf & Country Club.
Please contact Paula Burke with questions.
SPIRE is thrilled to announce the 2023 Honorees!
Preferred Name: Malin

Last Name: Burnham

Bio: Malin was born, raised and has lived in San Diego his entire life. He graduated from Point Loma High School, then received his B.S. Degree from Stanford in Industrial Engineering. He joined his father's Real Estate Brokerage firm as employee number fourteen. Upon his father's retirement in 1961, Malin purchased the business and lead it until he sold it to his managers in 1986. After pivoting full-time into the Non-Profit world, his principle endeavors have included leadership roles with the U.S.S. Midway Museum, Sanford Burnham Prebys Medical Research Institute, Sanford Consortium for Stem Cell Research and Burnham-Moores Center for Real Estate at USD. He recently established the Burnham Center for Community Advancement which is headquartered downtown.