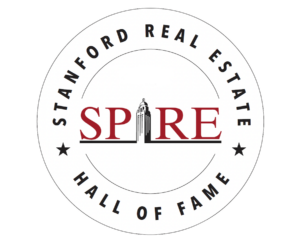 Stanford University sets a standard of excellence with an alumni network of leaders across industries and continents. In the broadly defined real estate industry, Stanford has always led, from its founding with Leland Stanford's land grant, to its alumni at the top of the industry, to its students – future innovators and changemakers.
Given this rich and ongoing history of excellence, SPIRE created the Stanford Real Estate Hall of Fame to honor Stanford alumni who are industry luminaries and pioneers – showcasing their contributions as a thank you and as an inspiration to industry leaders –
past, present and future.
Consistent, sustained positive impact on the real estate and/or built environment industries
Dedication to industry innovation
Industry icon and leader
Proven commitment to the education and development of the industry's next generation of leaders
Demonstrable contributions to Stanford University and its alumni and student communities
2023 Stanford Real Estate Hall of Fame
SPIRE is excited to honor Brad Geier ('79) and Ken Woolley (MBA '71, PhD '71) at the 2023 Stanford Real Estate Hall of Fame Banquet on Thursday, November 16 at the Sharon Heights Golf & Country Club.
Please contact Paula Burke with questions.
SPIRE is thrilled to announce the 2023 Honorees!
Preferred Name: William

Last Name: Tooley

Bio: Bill was co-founder and Chairman of Tooley & Company Investment Builders, developing and managing high-quality office buildings in California, including the Wilshire Palisades Building in Santa Monica, winner of 1988 Urban Land Institute Award of Excellence. In 1998, the Trammell Crow Company purchased Tooley & Company. Tooley Investment Company owns and manages office and retail properties in the West. Bill served on the Board of Directors of the National Realty Committee, the Federal Reserve Bank of San Francisco, and in 1992, received the Lifetime Achievement Award from the Los Angeles Chamber of Commerce Construction Industries Committee. In 2013, Bill was inducted into the Stanford Real Estate Hall of Fame. He holds a Bachelor of Arts in Economics from Stanford and an MBA from Harvard.