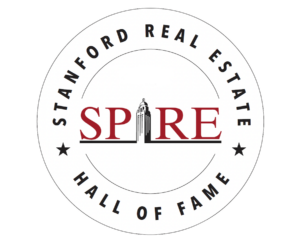 Stanford University sets a standard of excellence with an alumni network of leaders across industries and continents. In the broadly defined real estate industry, Stanford has always led, from its founding with Leland Stanford's land grant, to its alumni at the top of the industry, to its students – future innovators and changemakers.
Given this rich and ongoing history of excellence, SPIRE created the Stanford Real Estate Hall of Fame to honor Stanford alumni who are industry luminaries and pioneers – showcasing their contributions as a thank you and as an inspiration to industry leaders –
past, present and future.
Consistent, sustained positive impact on the real estate and/or built environment industries
Dedication to industry innovation
Industry icon and leader
Proven commitment to the education and development of the industry's next generation of leaders
Demonstrable contributions to Stanford University and its alumni and student communities
2023 Stanford Real Estate Hall of Fame
SPIRE is excited to honor Brad Geier ('79) and Ken Woolley (MBA '71, PhD '71) at the 2023 Stanford Real Estate Hall of Fame Banquet on Thursday, November 16 at the Sharon Heights Golf & Country Club.
Please contact Paula Burke with questions.
SPIRE is thrilled to announce the 2023 Honorees!
Preferred Name: Tad

Last Name: Taube

Bio: Tad is Founder and Chairman of Woodmont Companies, a diversified real estate investment and management company. Since 1963, it has been involved in the acquisition, development, and management of income properties of $5B+. He is a founder and advisory board chair of the Taube Center for Jewish Studies and served as President of the Koret Foundation and currently heads Taube Philanthropies. He was on the Board of Overseers of Hoover Institution, and founder and past chairman of the advisory board of SIEPR. Hoover awarded him the Uncommon Commitment Award; and Stanford's President John Hennessy awarded him the Remarkable Generosity Acknowledgment. His involvement in Stanford Athletics includes his family's gift to Taube Family Tennis Stadium, Football Stadium, endowment for the Taube Director of Men's Tennis and Chair of the Athletic Board. In 2018, Tad received an honorary doctorate from Jagiellonian University in Krakow for his work rebuilding Jewish cultural and academic life throughout Poland.